---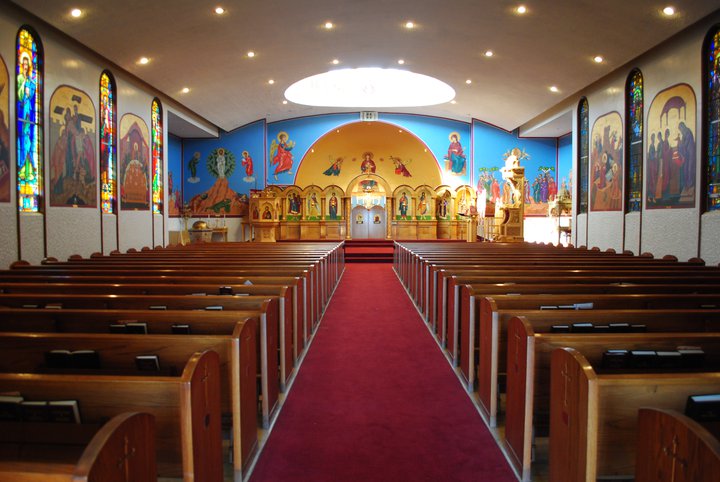 "Welcome one another, therefore, just as Christ has welcomed you, for the glory of God." - Romans 15:7
Through this web site, we are pleased to be able to introduce you to that same worship and fellowship as it is expressed in the life of our Parish. If you are a new member of our parish, or are considering membership, these web pages will acquaint you with what our parish offers to those who give it support and sustenance; to those who already belong to the church, we hope they will provide you with the assurance that your sacrificial offerings are received with profound respect, and are utilized to maximum effectiveness. They will, in any case, enable you to make the informed decisions that are necessary for a meaningful relationship with your church!
We are now livestreaming services on Facebook! Click below to like and follow the page.
We're also on YouTube! Click to visit our channel.
---
---
Planning Holy Week and Pascha at Home
For the first time in our history as a parish we will be celebrating Holy Week and Pascha in our homes rather than together as a community at Prophet Elias. Services will be live-streamed and we will be participating from the physical distance that the current pandemic has forced on us.
Priests throughout our Metropolis and Archdiocese are sharing ideas with each other so that we may better serve our at-home worshippers. I would like to thank Fr. Steven Tsichlis, Fr. Peter Stratos, our Metropolis and Archdioceses who have shared with us many ideas for Holy Week at home which are included in this letter.
To quote Fr. Tsichiis, "As difficult as this will be for all of us, we need to remember that whatever our circumstances, Christ is risen from the dead and that Pascha/Easter has been celebrated in Nazi concentration camps and Communist gulags within only a couple of generations of us. Our grandparents and great-grandparents have prayed under trees and in barracks, turning bed sheets into vestments and tin cups into chalices. They whispered memorized prayers and used their imagination to re-create the experiences of the Church they had hidden in their hearts during times of war and persecution. This year we must do what they did, by bringing Holy Week and Pascha celebrations into the relative peace and safety of our homes. We have a bit of time to think ahead and prepare about how we're going to do this."
Because all of us are at home without the normal distractions of work, school, and other social obligations, we should make every effort to view as many of the live-streamed services as possible, beginning with Liturgy on Lazarus Saturday, April 11, 2020 at 9:30AM and concluding with the Vespers of Love on Sunday, April 19th at 11:00AM. You can follow most of the services of Holy Week using the black Holy Week book.
Our worship is very physical, whether in Church or at home.
During Holy Week icons need to be front and center in your home. An icon of Christ should be on your kitchen table with some flowers around it to remind you that this is Holy Week. A candle or oil lamp should be nearby and kept lit. If you have a censer, you should light it and burn incense, especially before live-streamed services begin. During a live-streamed Liturgy or other services you should do at home what you would do in Church at Prophet Elias. Don't just merely watch the Liturgy as you might a football game or a movie – participate by singing along with the chanter and standing and sitting as is our practice. Say the Creed and the Lord's Prayer aloud together in whatever language you speak at home, kneel when we pray for the descent of the Holy Spirit upon the gifts, and pray for the time when we can all be together again soon!
Please live stream with us at 9:30AM this Saturday for the Saturday of Lazarus, and the next day at the same time for Palm Sunday. All evening services Monday through Friday will begin at 6:00PM. On Holy Wednesday and Thursday we will also have a morning service that will begin at 9:00AM, and on Holy Friday, there will be an afternoon service at 3:00PM. Holy Saturday Vesperal Divine Liturgy begins at 9:00AM and that evening we will begin live streaming around 11:30PM. Agape Service on Pacha will begin at 11:00AM. Please click the Facebook link above to join us for services.
Although there is no real substitution for coming to church to worship, we must make do. In our age, we have many tools that we can use to take part in Holy Week in our little church, our home.
Following are some useful links for you to click on which also lead to other links that may be helpful at this time and throughout the pandemic.
https://www.goarch.org/documents/32058/5151884/zine_holy_week_web.pdf/7e007c04-a267-404d-b32d-7470f6e1a260
https://www.goarch.org/documents/32058/5186810/Holy+Week+Toolkit+%282%29.pdf/a1021051-30d4-45c8-a43a-3f494244fe0e
www.assemblyofbishops.org/assets/files/covid19/HOLY%20WEEK%20FROM%20HOME%20Letter%20Size.pdf
http://www.orthodoxyouth.net/youthworkers/holy-week-resources
May the Crucified and Risen Lord Jesus guide us, guard us, keep us, and protect us during this difficult time!
May nothing ever rob us of the joy that comes from knowing that death has been conquered and that Christ is Risen!
With love in the Risen Lord Jesus,
Fr. John
---
---
Prayer of Protection from the Coronavirus
(Prayer by Grace Bishop Alexis (Trader) of Bethesda)
O God Almighty, Lord of heaven and earth, and of all creation visible and invisible, in Your ineffable goodness, look down upon Your people gathered in Your name. Be our helper and defender in this day of affliction. You know our weakness. You hear our cry in repentance and contrition of heart. O Lord who loves mankind deliver us from the impending threat of the corona virus. Send Your Angel to watch over us and protect us. Grant health and recovery to those suffering from this virus. Guide the hands of physicians, and preserve those who are healthy that we may continue to serve You in peace and glorify Your most honorable and majestic Name, of the Father and of the Son and of the Holy Spirit, now and forever and to the ages of ages.
If you need a priest do not hesitate to call Fr. John at (909)885-6213.
---
---
Services Schedule
Sundays
8:30 AM Orthros
9:30 AM Divine Liturgy

Evening Weekday Services
6:00 PM

Weekday Divine Liturgy
9:00AM Divine Liturgy

Please check monthly calendar for changes to the above services.
*For Weekday Morning and Evening Services please check the calendar to see if there is a service scheduled.